Inside Athena: Oakland Grove's Activities Aide Working Alongside Residents With Dementia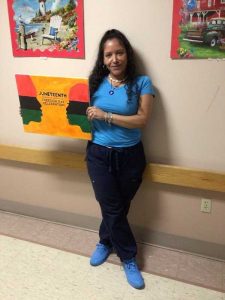 WOONSOCKET, R.I. — Janice Urena works on the dementia unit at Oakland Grove Health Care Center in Woonsocket. She's been at the center for five years and her director, Natashia Wilson, said Urena is the first person to pick up hours when extra help is needed and is a dedicated employee.
"She really does enjoy her job," Wilson said.
Urena organizes different types of activities for the residents, many of which are unique to the floor, including sensory blankets. For residents who are less mobile, she will give them hand massages, use music for them to make connections, and find other ways to keep their spirits high. While the activities on the floor are unlike those in the other areas of the home, Urena will always find ways to have fun with the residents.
"Programming on a dementia unit is so important because it allows residents to have the opportunity to engage in stimulating and meaningful programming. Programming is important because it creates a sense of routine for the residents living on the unit. Daily routines help people living with dementia navigate their world in a more predictable way and add a sense of order to their everyday lives. Programming also allows residents to connect and communicate with one another. It allows a space where residents can reminisce on meaningful memories together," Diamond Boone, Director of Therapeutic Recreation for Massachusetts and Rhode Island, said. "Janice has done a tremendous job of ensuring that each resident on that unit's needs are met in regard to programming. She has a wide range of knowledge and expertise in order to meet the needs of the residents. Janice is loving and patient with the residents and it shows through her work, it is such an honor to have her a part of the team!"
Wilson says Urena goes out of her way to help the residents and keep them entertained. Urena explains how she likes to care for the residents, be there for them, and offer them the attention they need. She has always had a passion to help others since high school when she worked at a group home. Before joining Oakland Grove, she worked with children with autism.
Follow Athena Health Care Systems on Twitter and Facebook & Oakland Grove Health Care Center on Facebook. Interested in a career with Athena? Click here!
MORE FROM ATHENA