Update from Oakland Grove – January 31, 2022
Please be aware that Oakland Grove has obtained permission from the RIDOH to operate in Crisis staffing mode, as is happening across the state in other hospitals and healthcare settings including nursing homes.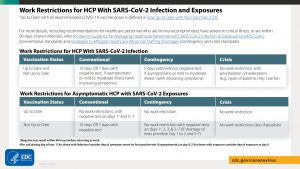 https://www.cdc.gov/coronavirus/2019-ncov/hcp/guidance-risk-assesment-hcp.html
We have three staff members that have tested positive for COVID who will work on the dedicated COVID unit to alleviate temporary staffing shortages, due to COVID. These staff members are fully vaccinated and are asymptomatic.
This situation is temporary and our facility will soon transition to Contingency staffing mode and from there back to Normal staffing mode